Testimonials

Kim:

I can not tell you how delighted I am with the new sideboard that just arrived. It is perfect and in gorgeous condition. Don H. was fun to work with and was exceedingly careful in pulling the piece from the truck and gingerly placing the sideboard in my living room. Great guy to work with.
You have a great team and I look forward to my next purchase.
Many thanks.
Jim N. - Virginia

---
Dear Kim,

Thank you for all the great service on the CW76 Bench and the upholstery on the slip seat.
Sincerely,
Tom C. - Virginia

---
Dear Kim:
I wanted to let you know that I received the CW 10 table on Thursday. It was—to no surprise—gorgeous. I can scarcely believe that it is more than 80 years old! I've paired the table with a 1737 English silver salver. The entire ensemble makes makes a wonderful accompaniment to my CW 44 easy chair.
Thank you for making this an easy transaction from beginning to end. The UPS Store did a great job packing the table. Everything went just as planned.
Sincerely,
Nathan D. - Ohio

---
Kim,

Just wanted to let you know, the Kittinger chest-on-chest was delivered yesterday. It is stunning!!!! It arrived in perfect condition. We are so pleased.

Sincerely,
Kerry and Troyce L. - Georgia

---
Good Morning Kim and Jim,
The Kittinger chest B2113 just arrived in perfect condition! I am very pleased again with your quality furniture and exceptional service. I look forward to my next purchase from you both.
Many thanks once again!
Walt L, - Pennsylvania

---
Good Afternoon,
I just wanted to let you know that the Kittinger table was delivered yesterday in perfect condition by two very friendly, courteous, and professional drivers. They were very careful with the unloading, unpacking and assembly; we are extremely pleased with our purchase.
I expect that we will receive many compliments from our guests in the future and we will be happy to recommend the Elmwood Company to them.
Regards,
Rick W. - Pennsylvania
---
Kim,

Our new table and chairs arrived last Friday. Once again, please pass along our compliments and sincere thanks to your refinisher and upholsterer for great work. I was a little apprehensive about the upholstery because our fabric had a pattern that was somewhat larger than the chair seats, but clearly had no reason for concern – the upholsterer carefully centered the fabric on all of the chairs in a perfect and uniform way.

Thanks,
Fred S. - Pennsylvania

---
Kim and Jim,
The CW 172 table arrived safely. It truly is a gorgeous piece. It took me quite a while to get it out of the box and its wrapping, but I took my time. I greatly appreciate your oversight in seeing that it was carefully packaged so as to protect it. Thank you again for making it available to us. We will give it a good home.

All good wishes,
Steve L. - South Carolina

---
Jim and Kim,
Nothing I can say but WOW! The CW117 table is perfect, the transaction was perfect from start to finish. Count me as a very picky customer with very high expectation as completely satisfied! I wish you only the best with Elmwood Company a truly unique endeavor which I hope continues.

Regards,
David W. - Wisconsin

---
Kim and Jim,

I received my 'Kittinger' WA1037 Desk and WA1016 Bench yesterday from Vintage Transport. I could not be more pleased. The furniture is just beautiful. The finish I requested is perfect. I hadn't seen the pieces in many years but, they are even better than I remember. I never thought I would ever find them, again. I had never purchased anything that expensive on the internet. Vintage Transport is a wonderful company. It came blanket wrapped as you said and the men were so polite. This has been a good experience. I would be interested in buying something,again. Thank you both so much for all you did.
Phyllis S. - Virginia

---
Once again thanks for all you have done. Jane is proud of the furniture in her completely overhauled 1930ish home. If there is anything in the home she didn't buy through you all, I don't know what it is.

Kindly,

Bob C. - Texas

---
Just wanted to let you know my table arrived yesterday and I love it!

John at the UPS store did a wonderful job of packing it, and it arrived in perfect condition. I will certainly check the Elmwood web site from time to time--who knows I might find another piece I "must have".

Regards,
Rosemary R. - New York
---
I am sorry to be so tardy in letting you know how pleased we are with the bachelors chest. It is wonderful and
everything I hoped it to be. I just wish I could sit and admire it.
It arrived on January 19th in perfect condition. I have not had time to email you as out of town guests arrived the next day. I was glad it had been delivered on Thursday night and I could show it off. I only wish I had a place for another one.

I thank you again for the chest. We will treasure it as I am sure our children and grandchildren will.

Marilyn W. - Florida

---
We just wanted to drop you a note to let you know that the D2121 table delivery went well today; the table looks amazing! ...Just like it did in the pictures! The size is perfect for our home, and the finish is in almost perfect shape. My wife and I are very pleased; we feel very lucky to own such a lovely table. Thank you for everything. We hope to work with you all again sometime soon, and will certainly recommend you to our friends.

Zachary - Virginia

Note: The shipper was very prompt, friendly, and helpful with the delivery; he and his partner showed us how all of the parts and pieces work together.
---
I just would like to say THANK YOU for the great furniture.

Please let Jim know that I am very pleased, in reality, I am ecstatic.

I would like another Spider Leg Table, and would also like the Bombay Chest on Chest.

I really did not feel that I could trust sending all of this money to a company I had never met, then wait months holding my breath waiting to see what would show up at my door. I have had a few bad deals buying items over the internet.

I will tell anyone that Jim Fisgus, and Kim Earl will do exactly what they say, when and how they say they will do it. I am damn happy with every item you sold me, and could not be happier. If you have another Spider leg table, please let me know, as well as the status on that big chest if it has not been sold.

If in any way I can help either of you, please do not hesitate calling me at anytime.

Thanks.

B.E. - Georgia

---
Our Old Dominion Desk and Tea Caddy arrived on the 5th and we are well pleased. Everything was as it should be and the delivery went per the schedule. The desk really exceeds our expectations and goes very well in our study. We are quite pleased to now own a Kittinger desk. Growing up in Buffalo, I often drove by the Kittinger factory on Elmwood Avenue and thought someday I will own a piece of furniture and Buffalo history from Kittinger.

Thank you both for making the sale and delivery so easy.

Pat P. & Bill W. - West Virginia
---
Hello Kim,

We had a very pleasant trip to Tonawanda and no problems getting the corner table (CW 2). It's beautiful and looks wonderful in our house. It fits even more perfectly in the space than I had envisioned. It was fun meeting Carl and talking with him about his years at Kittinger. Thanks for all your help.

We enjoyed Niagara Falls and other tourist attractions along our route. It was a wonderful break for us.

I've enclosed a photo of the table in its new home.

Sincerely,
Joyce W. - Maine

---
I came home last night to find my sofa in place and in good condition. I am very pleased that everything worked out so well.

Just to explain my reticence, I am very wary of buying over the Internet except from a well-known company such as amazon.com. If I pay by Pay Pal, I know I'm safe. If I pay by MasterCard, my purchase is guaranteed. But sending a large check to a small company like Elmwood was, to my mind, risky. There are so many Internet scams out there.

Your Web site looked great, your BBB rating of A- shows that you haven't submitted information to BBB but that there are no complaints, so I went ahead and sent the check along with a dose of trepidation.

Then to have someone accept delivery when I couldn't be there to check the sofa was hard, but Diane Bush (whom I don't know, but who sounds really nice) vouched for you, and you guaranteed the sofa, so again I went ahead and arranged for security to accept the sofa.

All turned out fine, and my rather reluctant faith paid off, and I thank you both for being helpful and understanding.

Best,
Leslie M. - Georgia

---
Vintage Transport has just been here and delivered the Historic Newport HNl6 table. The photos on your website did not do justice to just how beautiful this table really is. Its simple lines please me very much, and Carl has done his usual fine refinishing. I am more than pleased with my latest piece of Kittinger. I will spend the next few days just enjoying the look and finish of this fine furniture.

Thank you.
Steve E. - Colorado

---
Hi Jim,

The beautiful sideboard has arrived. I am so pleased with it and all of my dealings with you. Everything has been handled very smoothly with no setbacks or disappointments.

Thank you again.
Martha W. - Virginia


---
Dear Kim,

John and I are thrilled with the Kittinger furniture that arrived today! When the movers left, we walked around admiring each piece and smiling at each other. Our home is the place we have always wanted it to be. Without your help, and the education that you provided us, we wouldn't have made good decisions. We are so grateful for the time that you gave us when we were placing the order. Thanks to you, everything is perfect for the spaces and the pieces are even more beautiful than we imagined! Carl's work is beyond our expectations! He is truly a master, and we feel fortunate that he was willing to undertake our project. The only problem is that now we walk into other rooms and we know what they could be. So, we are Kittinger collectors now.

Sincere regards,
John and Pam O. - Arizona


---
Kim,

I received my shelf yesterday and it is just as beautiful as I expected it would be! Thank you again for holding my hand throughout the purchase process. I would heartily recommend Elmwood to any Kittinger furniture lover!

Thanks again,
Ann W. - Georgia


---
Vintage Transport delivered our new dining room table late this morning, and I watched with some trepidation as the two very careful and skillful delivery crew members brought it in and assembled it complete with the two leaves. My husband could not believe I had ordered such an expensive table sight unseen, but he had to agree that it's a stunning complement to the Queen Anne dining room chairs we had inherited some years ago. We are both so pleased!

With warmly appreciative thanks for all your help in seeing this purchase through without a hitch, much less a scratch,
Nancy B. - New York

---
Kim and Jim,

Just a note to let you know my chairs were delivered this morning. I couldn't be happier! It certainly was worth the wait. They look beautiful in our home and I hope will stay in our family for a long, long time. Thank you for all of your help. I share your love of the Kittinger product. What a wonderful thing you do to keep its memory alive. My best to you both.

Most sincerely,
Polly K. - Kansas


---
The firescreen has arrived and right on time for my husbands' birthday. We just have to say how beautiful it is in person. Please Thank Carl for his fine craftmanship. It's really everything we hoped it would be. Again, thanks for working with us so we could add this fine piece to our home.

Warmest Regards,
Rose M. - Wisconsin

---
The table arrived safe and sound. We are so pleased with it. It looks as if it has been next to the sofa forever! Thank you so much. It has been so nice having such personal attention. Wish I could think of something else I needed!"

Anne M. - Louisiana

---
Dear Doctor Jim and Kim,

The magnificent Kittinger Bench arrived last night, ahead of time. You were correct, the men carefully unwrapped the bench and carried it into our home and placed it in the hallway. The bench is beautifully refinished like an wonderful antique and the upholstery is perfect. I am Lucky!! Thank you so very much for all of your help. You are my first internet transaction at this level. What a wonderful experience for your first time customers, and you both are the Ultimate Professionals. I just would like to see your homes!

Most sincerely,
Sherry B. - Wisconsin


---
Kind Folks,

A quick and sincere note of thanks for your helping my husband complete our collection of Biggs Furniture!
We started this adventure 40 years ago with my parents wedding gift of a bedroom set from Biggs.
The pie crust table has eluded us from the beginning. Now, the living/dining and bedrooms are complete.
Not bad for a small college professor and his demanding wife!

Elizabeth & Thomas G. - Virginia


---
Jim and Kim,

I received the secretary yesterday afternoon. I am very pleased with all aspects of this transaction: your well designed web site; friendly and helpful responses to questions; professional paperwork and clear instructions; and the absolutely first-rate quality of the item and refinishing. The shipping company's handling and delivery were also as good as it gets.

Thanks and best regards to you.

Leonard C. - California


---
Kim,

I am so excited about my new furniture. It arrived on Wednesday evening and it is just beautiful! I never dreamed I would be able to have that beautiful Bombe' Chest. I absolutely love it. While my husband understands golf clubs much more, he also thinks it is a beautiful piece of furniture and can understand the quality and history it represents. I had an interior designer over the other day and she said she was recommending that people keep their old wood furniture as it is so much better than what is made today. That was the day before this arrived. And oh my - the difference in quality!

Do know how much I love the pieces which arrived!"

Nancy C. - Wisconsin


---
I must let you know that the Kittinger arrived on Friday and WE ARE THRILLED!!! The pair of wing chairs have exceeded my expectations. They are EXACTLY RIGHT for my smallish living room - their scale and proportions are PERFECT! And just as I suspected they look like a MATCH to my camelback sofa - the lines are just the same!

We didn't get a chance to put our new bed together until my husband came home tonight (Mon.) since we babysat our small grandchildren all weekend. I could HARDLY WAIT to see how the bed would look in all its glory... and I must say IT IS STUNNING - one of the most beautiful beds I have ever seen!!! And the finish job done by Carl is ABSOLUTELY INCREDIBLE - it looks just like a brand new piece!!! We cannot find a flaw anywhere. Please let me know if there is a way I can personally thank him for his fine work.

The canopy fits perfectly and we were impressed to find that each piece was numbered, so it was easy to put together.

We were also very happy with Vintage Transport. They did an EXCELLENT job and the furniture arrived in perfect condition. Although it took a while to finally receive our furniture, it was definitely WORTH THE WAIT!!!

I WOULD NOT HESITATE to do business with Elmwood again in the future - we are impressed with the exceptionally high quality of your product! And I have certainly enjoyed our phone calls and emails, Kim. All in all, this has been a delightful experience!

As I continue the process of refurbishing my house I will certainly keep Elmwood in mind. I must confess that I already have a few more Kittinger items on my "wish list" :).

Val B. - Missouri


---
This is to let you know that my CW 149 Kettle Stand by Kittinger arrived about an hour and a half ago and that I am delighted with it. John, your UPS expert in Buffalo, surely knows how to pack and send items! And Mr. Prieur certainly knows his business!

Shipping is frightfully expensive these days; however, one does not resent the cost when faced with outstanding workmanship. It is my feeling that both gentlemen take pride--as we all should--in their work.

Once again--thank you for all courtesies, especially for arranging that the table be here before the holidays!

Have a blessed holiday.
Virginia B. - Maryland


---
This is to advise you that I accepted delivery of my OD1780 Highboy this morning.

I am more than pleased with this piece. While examining it for any possible shipping damage, as per your instructions, I discovered much more intricate detail than was discernable through the photographs. This includes the work on the two lovely shell carvings, the fluted columns, the finials and especially the ball and claw feet. The re-finishing job is superb and the chest looks as though it must have when it first left the Kittinger factory. It even smells new. This Highboy replaces an old Cherry one I bought about thirty years ago. Although it has served me well, I always dreamed of owning a Kittinger piece like this one. Thank you for making this possible.

Also worthy of mention, the Vintage Transport people certainly did a fine job of delivery. They came within a half an hour of the time they promised. The furniture was wrapped carefully and securely. The drivers were polite and careful as well, handling the piece gently and respectfully, and placing it exactly where I asked them to. I am impressed!

By the way, we could not find the drawer key initially, and the driver noted this on the receipt. However, just after he left, I discovered a notation on the Bill of Lading, indicating that the key was taped into the top right hand drawer. Sorry for the confusion and oversight. There is no problem. I have the key and the furniture is flawless. Thank you again for the opportunity to own this beautiful piece of furniture!

Robert F. - New York


---
I have been meaning to let you know that I received my "new" CW 65-66 table a few weeks ago and I just love it. It looks fabulous! Delivery went very smoothly. Thanks for working with me on this. I would highly recommend your company to others without hesitation. Some day, I will be looking for chairs!

Alison N. - Maryland


---
I've been so tied up that I've not had the opportunity to tell you how pleased my wife and I are with the Kittinger CW19 Lowboy that was delivered to us recently.

Please pass on my regards to Carl as well for his good work. I look forward to further purchases from you.

Robert F. - Florida


---
We just wanted to let you know that we did meet up with Carl in New York and picked up our bed on Tues. He's a lovely man and as expected, did a wonderful job on the piece.

Thank you for all your time and assistance. I'm sure we'll have an occasion to talk again in the future.

Best Regards.
Gerald & Denise S. - Pennsylvania

---
My Newport Chest arrived this evening and it is even more beautiful than I anticipated. I will be anxious to see it in the daylight - it sure looks as if it is in perfect condition and the finish looks wonderful - like new. Tell Carl he did a great job yet again.

I never thought I would own this piece and am thrilled. Thanks to you and Jim for making these treasures available for another generation to cherish.
Thanks again,
Leslie H. - Illinois

---
I just wanted to let you know that the Kittinger table, chairs, and side tables arrived and they are lovely. I am very pleased with each item. They look beautiful in my home. Thank you for being so easy to work with and doing such a good job.

I will look forward to doing business with you again in the future. Many thanks.

Nancy W. - Texas


---
My Colonial Williamsburg Lowboy (CW19) was delivered today and it is gorgeous! I'm SO grateful to have it. Carl did a splendid job of refinishing it. THANK YOU!

Carol E. - Alabama


---
For many years having an avid interest in Kittinger through Williamsburg as a young man, I knew financially I could not afford their products, but saw with great appreciation the quality of their work. It was with interest that I became reinterested in the used kittinger and specifically with Elmwood. I frequently visited the site and talked to Dr. Fisgus who always returned my calls. As we talked I think we both understood that we had a mutual appreciation for quality pieces. Being a woodworker, I knew what to look for and having examined pieces in showrooms for many years, I was always appreciative of them more each time, but never so much as when I received several pieces recently and could really study them. Kim, his associate and Carl his refinisher worked equally as hard to make sure I was satisfied with the outcome. Unlike others who sell used Kittinger there was no doubt that there was genuine interest and pleasure in doing business with Elmwood. I'd highly recommend them to anyone.

Joe and Diane L . - Virginia


---
I got the merchandise last night and am very pleased. The table and trays exceed my expectations and look just great in our house. The packing was also superb. Thanks for some great furniture and I'll be contacting you soon regarding additional pieces. Thanks.

Keith H. - Texas


---
My CW155 table arrived early this morning and I wanted to let you know how very pleased I am. The transport company was wonderful, on time and very professional. I thank you for all of your help and look forward to doing business again in the future.

Dennis T. - Virginia


---
The T416 desk arrived last week. I just want you both to know of my delight in the desk and deep appreciation for all that you both did to make it possible for me to acquire something that had been my goal for years. I hope that this is not the last piece of Kittinger that I order from you.

I have checked my file, and I do not have an e-mail address for Carl. Would you please express to him my appreciation for his impressive workmanship.

Bill R. - New York


---
We received our CW148 sideboard today, and it's even more beautiful than I expected! The finish is just gorgeous! It looks so rich -- like it was hand-rubbed for hours!

We want to thank both of you for spending so much time with us. Both of you have been very patient and knowledgeable responding to our (many) questions. The level of personal attention you provide is exceptional, and now that we've received our sideboard -- well, we are very happy customers!

We look forward to our next purchase. Thanks again.

Jane E. - Virginia


---
I wanted to take a moment to tell you how much I am enjoying the CW-169 secretary. The finish restoration is truly flawless, the piece is better than new and I really couldn't be more pleased with it. Of the dozen or so pieces I have purchased from you over the years this is truly the piece de resistance and I appreciate your persistence in locating it for me. It has always been a pleasure doing business with you!"

Claus T. G. - Washington

---
My Kittinger Williamsburg collection table recently arrived and I am elated. Having gained my interest and love for these Kittinger pieces from my Mother and having purchased several in the later '80's, I thought that I would not be able to add additional pieces. Many thanks to you and Dr. Fisgus at Elmwood that this is not true. If it were not for the labels on the bottom of the table, one would believe that it was a new table. This is a credit to you refinisher. The packing was beyond reproach and the table arrived on the day promised by the shipper! Again thank you both. It was a delightful and satisfying experience. I look forward to additional purchases.

J. L. H. Washington, DC


---
I just opened up the tray table and it is great. It looks as it must have when new, but it has a character that I don't think would be found in a brand new piece of furniture.

Let Carl know how nice a job I think he did.

Thanks,
Larry K. - Connecticut

---
Just wanted to let you know that my chest arrived yesterday and it exceeded all my expectations. Kim you were right, "it was well worth the wait"! As you may recall I already have a twin to this chest and having purchased a second one from you sight unseen I had my concerns about the condition,restoration and shipping to Texas. Well the chest is absolutely beautiful. The refinisher, in my experienced opinion, did a first rate job with the restoration. The chest arrived when promised and the shipping company did such a fine job in protecting it you could have rolled it down a hill and it would have come through unharmed! Thanks again, you have a trusted client in Texas!

Connie P. - Texas


---
We are absolutely thrilled with our Kittinger sofa! Working with the staff and associates of the Elmwood Company was a pleasure. We consider our purchase as in an investment in a truly unique work of art. Our sofa is a beautiful addition to our home decor. Even though this is a reproduction, the superior craftsmanship and attention to detail makes us feel we have purchased a piece of history.

Sassy has found the new "napping place." You must understand this is a true tribute to the comfort and quality of your furniture - Her Highness won't nap just anywhere. The fact she has chosen the couch is a mark of rare distinction.

Julia F.M. - Nebraska

---
We just received the latest order of Kittinger Furniture from the Elmwood Company. As before, it arrived in perfect condition. We are extremely happy with all of the pieces we have purchased. Some needed to be refinished before they could be shipped to us. The Elmwood Company arranged for the refinishing and the workmanship has been flawless. It has been a pleasure to deal with Kim Earl. Her attention to all the details has been truly exceptional. We highly recommend Kim and The Elmwood Company and will continue to use their services.

Ellen B. - Illinois


---
Anyone contemplating their first Elmwood purchase is in for an absolute joy. Smitten by the museum-quality Kittinger reproductions on my first visit to Colonial Williamsburg in 1978 , I had managed to acquire only two pieces before the company went out of business. I was crushed. Still, it was with some trepidation that we committed to our first purchase of unseen, previously owned CW furniture in 2000. Every year since, we have invested in additional favorites from Elmwood.

"Breathtaking" does not overstate the mastery of Carl and Jimmy's restoration and upholstery art. And in working with Jim and Kim, it is evident that theirs is a labor of love in making it possible for others to have a second chance to acquire these treasures from the past. You will find their knowledge, generosity of time and helpfulness to be unsurpassed.

Patricia K. - Virginia


---
Cabinet has arrived. Its a beautiful piece. No problems. I don't know what it looked like before Carl restored it, but the results are magnificent. I look forward to doing business with you again. Thank-you.

Terry C. - Ohio


---
My grandfather was a cabinetmaker who immigrated from Norway to the United States in the early 1900s. His specialty was refurbishing and re-finishing valuable antiques. My mother was an interior decorator who developed a passion for Williamsburg and particularly, Kittinger furniture.

She and my stepfather became a dealer of Kittinger furniture during the 1970s, but she could only afford one piece, the CW148 Sideboard.

Through their influence, I also gained a passion for Kittinger furniture and took out a second mortgage on my house to buy a few pieces (which I later lost in a divorce). When the Kittinger Company went out of business, I was depressed believing that I would never again obtain these fine treasures, even if I would be able to afford them.

In the summer of 2000, my older daughter called to tell me about a website which sells reconditioned Kittinger. I immediately called and talked to Jim Fisgus and placed an order for a few pieces. I was amazed when they arrived. It was like the Kittinger Company was back in business. Since then, I have purchased more than 90 pieces of Kittinger furniture from the Elmwood Company and now share this passion with my two daughters.

Working with Jim, Kim and Carl over the last four years has been a joy which I hope will continue far into the future."

Gar H. - Florida


---
I would like an opportunity to say how much my wife and I have appreciated your help in developing our Kittinger collection. Three chairs, two desks, three chests, and two tables all were great values. It is wonderful to have a relationship with collector-dealers whose hobby has made them the best source there is of Kittinger. When honest people have a passion for their business, and knowledge above others, all their clients can benefit. I know our relationship will continue and hope you will use your backgrounds in establishing a collectors group, that with you, appreciate Kittinger values.

Dave & Marilyn A. - Wisconsin

---
I have never dealt with such professional and knowledgeable people in the many phases of business to which I have been exposed these last 40 odd years. The rapidity of responses to any question I had, the care given each request I made was great. The quality of the five ( 5 ) different Kittinger pieces I received, was not only perfect, but they arrived when promised. I have had nothing but compliments on the furniture by the many friends who have seen the pieces.

Without question or reservation, I would highly recommend your firm to anyone wanting the best in Kittinger Reproduction furniture.

Dan F. - Connecticut

---
I have dealt with Jim Fisgus and Kim Earl of the Elmwood Company for over 6 years, and have purchased at least 7 separate items throughout the years, including exceptional chests, chairs, tables, and a highboy. These are authentic pieces manufactured by The Kittinger Company from 1968 to the late 80's. Not only was the service and the follow-up exceptional, but it should be on record that Jim and Kim exhibit the highest of ethical and moral standards in terms of price, quality, and veracity.

I grew up in a family which appreciated high quality and beautiful pieces of Kittinger furniture. When the company went out of business in the early 1990's, it became virtually impossible to replicate or duplicate any of their pieces of exquisitely manufactured pieces. This is where Jim and Kim have been able to provide a specific niche entrepreneurship.

The truly impressive aspect which encourages me to continue doing business is that these are superior pieces of furniture that are available at prices which are less than when they were manufactured over 25-30 years ago.

In addition, Jim and Kim have retained the employ of retired Kittinger craftsman who used to work in the Kittinger factory in Buffalo, NY. and supervised the refinishing work. His knowledge, expertise, and intricate attention to detail have become a fading passion. He is a true artisan."

T.B.S - Colorado

---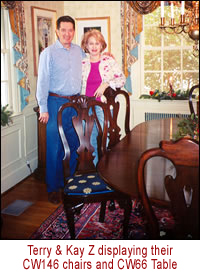 As you both well understood, those who appreciate fine colonial furniture were truly saddened when the Kittinger Company closed its doors. There was an instant realization that the authentic, quality reproductions and breadth of line produced by Kittinger could not be replicated by any other company in the marketplace.

The alternatives left were spend a fortune and buy a real antique, if you could find and afford what you wanted, or have your desired piece custom made by a limited and dwindling number of ateliers at prices and lead times that were wholly unsatisfactory.

My wife and I were pleased to learn that the Elmwood Company offered a way to readily acquire previously-owned Kittinger masterpieces at reasonable prices. We leapt at the chance to acquire six dining room chairs (CW 146) which feature hard to find and difficult to make curvilinear seat rails, contoured backs, exquisite carving and solid mortise-and-tenon construction.

Elmwood's master finisher and his fellow craftsmen did a fabulous job refurbishing and re-upholstering the chairs. We were so delighted that we repeated our experience by ordering a mahogany dining table (CW 65-66) to go with our prized chairs. The end sections of the table feature tilt-tops for easy transport or moving aside, as Jim pointed out, to make room for dancing as in colonial days.

Both of you were very generous with your time and knowledgeable advice in connection with these purchases. For example, Kim will remember guiding us to a fabric vendor where we obtained the silk fabric used to cover the chairs, described as gold Chinese medallions on a royal blue field. The fabric is in the lobby of the Williamsburg Inn.

Please accept our sincere thanks for all your help and for making Kittinger reproductions available again.

Terry & Kay Z. - Virginia

---
I regret being a few days late in telling you how pleasing are the little Kittinger tilt-tops. (It is impossible to choose a favorite.) Both arrived, packaged as one unit, last Thursday. Your confidence in John's exceptional packing and shipping service (UPS) was entirely correct. I don't think even the roughest treatment on this end could have inflicted a scratch through his cushioned carton!

Please express to Carl my delight and appreciation for his meticulous restoration...and that I treasure the results of his labor. Even little areas of wear have been beautifully blended, giving the appearance of gentle love through previous generations.

Thanks also for your patient help with finish descriptions. Dr. Fisgus was on target about the hint of red in Faded Heirloom and it blends beautifully with my red mahogany pieces. Buying from Elmwood Company has been a happy experience."

Pat W. - North Carolina